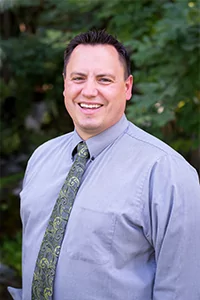 Dr. Travis Shepherd, DMD, became interested in health care at a young age. He began his education at Utah Valley University, where he graduated with honors with an associate degree in natural science. He continued his undergraduate education at Brigham Young University with a bachelor's degree in neuroscience. During his time at BYU, Dr. Shepherd solidified his desire to pursue dentistry after spending many hours observing local dentists and seeing the impact that surgical and esthetic dentistry can have in the lives of their patients.
He selected the University of Louisville as the next phase of his education, based on the university's strength in clinical dentistry. Dr. Shepherd was honored in dental school, being inducted into the Delphi Society based on excellence in science. He was also selected as the student member of the admissions committee. In 2008, Dr. Shepherd graduated cum laude with his Doctorate in Medicine in Dentistry (DMD) degree.
Determined to gain greater clinical and educational expertise, Dr. Shepherd chose to continue his training at the University of Colorado. There he spent a year in a general practice residency, a hospital-based dental residency, where he worked with dental specialists in the areas of oral and maxillofacial surgery, prosthodontics, endodontics, periodontics, and radiology. During this program, Dr. Shepherd received training in more advanced areas of general dentistry that included IV sedation, implants, surgical removal of wisdom teeth, root canals, esthetics, and dental rehabilitative procedures.
Dr. Shepherd enjoys the versatility of general dentistry and the ability to create an environment where most dental procedures can be done in-house. He loves all aspects of dentistry and attends continuing education courses as often as possible to stay current in an ever-changing dental world.
When not staying busy at his office with his "dental family," Dr. Shepherd can be found spending time with his lovely wife, Jamie, and their five children. They enjoy spending time outdoors as much as possible including hiking, camping, and backpacking. Dr. Shepherd has spent over 10 years volunteering with the Boy Scouts of America and enjoys spending time teaching and instructing young men the skills that will help them find success in their life.
Dr. Shepherd has a passion for dentistry and loves to see others smile! His goal is to change the way his patients feel about dentistry. He truly believes that EVERYONE deserves to SMILE!