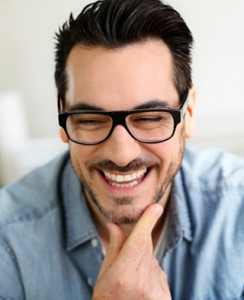 Infinity Dental is a place where you can get beautiful dental implants and start-to-finish dental implant procedures.
What Are Dental Implants?
Dental implants are replacement roots and teeth that have the potential to last a lifetime. These replacement teeth have more bite force and can support more weight than even natural teeth can! Dental implants are the most durable and secure replacement teeth available.
Dental implants offer other advantages as well. With dental implants, you have the tooth replacement option that can help you:
Replace One, Replace Them All | There is more than one implant option. If you just need one tooth replaced, we can do that. If you need your whole smile replaced with beautiful, long-lasting teeth, dental implants are a great solution!
Enjoy an Easy, Happy Life | Dental implants are amazing because they will never shift in your mouth or make you uncomfortable. You can speak and chew without any concern that your teeth will shift out of place. Implants are also easy to care for and can be maintained with regular brushing and flossing.
Preserve Bone | Dental implants are replacement tooth roots that stimulate the jawbone. This stimulation will protect you from bone deterioration, collapse, and premature aging.
Experience a Natural Look and Feel | No one—including yourself from time to time—will realize that you have dental implants instead of natural teeth. Our beautiful dental implants will always look and feel great!
Dental Implants at Infinity Dental
Why get dental implants done at Infinity Dental? At our practice, Dr. Shepherd, DMD, does it all, from evaluation to tooth restoration. This means you can often get your whole procedure done in the same office you already know and love! Our doctor and professional team will ensure your comfort while we place and restore your dental implants.
We stay with you from your first consultation until you are healed and loving your new dental implants!
To start filling your smile with reliable dental implants, give us a call today at Infinity Dental.