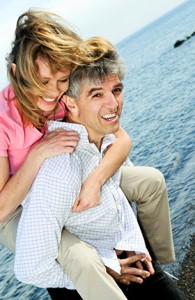 Dentures will give you a full and confident smile that will help you feel great about the way you look. You will enjoy talking and laughing much more with a full set of custom-fit, beautiful teeth.
Here at Infinity Dental, we can offer denture options that fit your needs.
Implant-Supported Dentures
Implant-supported dentures are dentures that attach to a few dental implants which are strategically placed throughout the mouth.
The dental implants work like replacement tooth roots, so denture implants will stimulate your jawbone and prevent bone loss. This will preserve your jawbone through the years, keeping it from deteriorating or collapsing.
Other advantages of implant-supported dentures are:
Speech Enhancement | Implant-supported dentures will stay put in your mouth, like real teeth, so speech will be easy and come naturally.
Real Look and Feel | Denture implants look beautiful and real, and they feel secure when you are wearing them—even while you eat!
Worry-Free Dentures | You will never have to be anxious about your dentures slipping and sliding around in your mouth. No one will know that you are wearing them.
Implant-supported dentures are an exciting option for patients who have lost many of their teeth.
Traditional Dentures
Traditional dentures consist of a pink plastic base which seals with the gums. Porcelain or plastic teeth complete the restoration. We provide traditional dentures to our patients who could benefit from the following qualities of traditional dentures:
Affordable | Traditional dentures are one of the most inexpensive ways to complete your smile.
Available to Everyone | Not everyone qualifies for implant-supported dentures, usually due to a low jawbone volume. No matter the condition of your jawbone, you can improve your smile with traditional dentures.
Easy to Clean | You can easily remove traditional dentures and clean out the buildup of bacteria, so your mouth stays healthy.
Traditional dentures are a wonderful option for many patients, and we would be happy to provide them to patients who have suffered extensive tooth loss.
Dentures Complete Smiles Here at Infinity Dental!
Come see Dr. Shepherd, DMD, to discuss which denture option is right for you. We are eager to give you the beautiful and full smile that you are looking for!